What We Learned: The University of Florida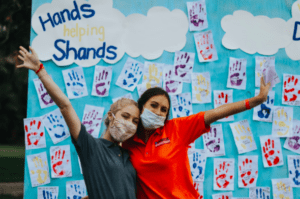 Large-scale campus push days have been more difficult to plan than ever, whether hybrid or virtual, but that doesn't mean they are impossible. For Dance Marathon at the University of Florida, we had the opportunity to host our Fall fundraising day, Transform Today, on Oct. 27 and 28, with the guidance of UF Epidemiology and the UF Events Safety Team. These 26.2 hours were full of opportunities to connect with Dance Marathon at UF both in-person and virtually and resulted in 578,874.31 miracles.
One of our biggest considerations with hosting a hybrid event was ensuring that there were ample ways to safely engage with us, respecting any comfort level. Every event that we hosted included a virtual participation option, whether that be tuning into a live stream or meeting a Miracle Family over Zoom. Each of our in-person events required facial coverings, limited capacities, and social distancing. We started the day with Circle of Hope, a time to reflect on the unifying factor that brings us together – hope. Throughout the day we had various activities at the Reitz North Lawn, including spirit rooms, a merchandise table, Hands Helping Shands (pictured below), and Check-Ins. Coming safely together in a single location provided the perfect space for fellowship, fundraising, and fun. To wrap up the end of our first day, we had a new event called "Be the Light."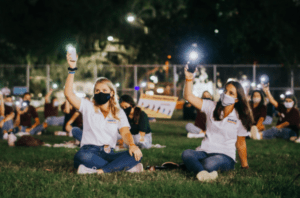 Be the Light allowed members to visualize the impact that a single light can make when joined by others. In addition, we decorated and placed luminaries in the Garden of Hope at UF Health Shands to show our support for every child treated there. Those participating virtually were invited to fill out a Google form, we decorated and placed their luminaries in the Garden of Hope for them. We concluded Transform Today on Oct. 28 with Celebration of Miracles where we celebrated, danced, and counted down to the end of an inspiring 26.2 hours. We revealed our fundraising total over two live streams outside the Stephen C. O'Connell Center, the location of our Main Event each year.
These 26.2 hours were full of fundraising power hours and recognition of our members. We planned out a different hour with focused programming for each of our groups, from high schoolers to Dancers to Alumni. During each fundraising hour, we sent personalized text messages, fundraising updates, and shoutouts to members of these groups. We witnessed great success with this because we could highlight and engage with these groups in an intentional way. Throughout the day, participants could earn their yearlong incentives, including hospital bands signed by our Miracle Children for reaching $1,000. There also were limited-edition headbands for raising $100, $250, $750 or $1,000 during Transform Today. Periodically, participants could attend our Banding Ceremonies to receive their hospital bands and headbands.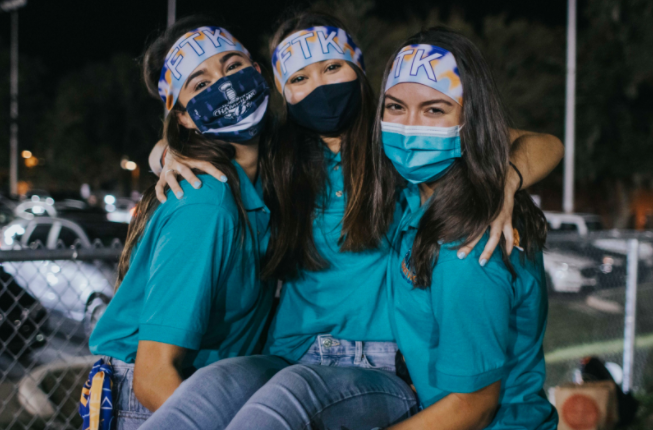 We are so grateful for the support from all of our members throughout Transform Today. Transform Today allowed us to witness the resilience our community has in a year that has provided a number of challenges. Their commitment to change the future of childhood illness was nothing short of incredible.
---
Miracle Network Dance Marathon is an international movement, involving over 400 colleges, universities and K-12 schools across North America that fundraise for their local Children's Miracle Network Hospitals. Since its inception in 1991, Miracle Network Dance Marathon has raised more than $300 million–ensuring that no child or family fights pediatric illness or injury alone.
Learn more about Miracle Network Dance Marathon: