What We Learned: Florida State University
Dance Marathon at Florida State University hosted our annual Florida Statement push day on October 27-28th, 2020.
Like most other schools, FSU had strict guidelines that restricted events that hosted more than 50 people. During this time, our leadership team was determined to recreate our traditional Statement experience in a way that still connected our cause to our community, while also staying safe and socially distant. Throughout these 26.2 hours, DM at FSU brought our movement to our participants through Statement Kits given to our organization's Delegates, and Tour De Gong, where our gong traveled to different chapter and organization houses.
Prior to Florida Statement, members of our Internal team created Statement Kits to be distributed to individual organizations. In these Statement Kits were yard signs for every organization's front yard, giveaways for Delegates to give to their organization's members, miracle balloons for DIY fundraising walls, hospital bands for participants hitting their milestones, a merchandise flyer with a scannable QR code, and blank superlatives for Delegates to award to their members. Organizations with on-campus facilities each had designated time blocks for their own Statement celebrations. During this time, our Internal team brought the gong to their facility. In addition to the gong, fundraising incentives were also brought to each location for participants to pick up.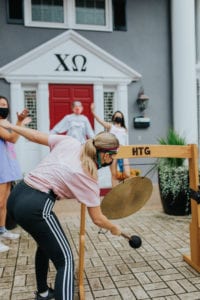 Logistically, Tour De Gong was created by making a spreadsheet schedule that gave every organization a 30-minute time slot. This schedule was then shared with every organization's Delegate, as well as all chapter presidents. We were able to have two gong routes going at the same time, which cut down our overall time used traveling around campus. Once each organization's facility had been visited, both gongs, all fundraising incentives, and pre-purchased merchandise were then brought to Landis Green (a central location on FSU's campus) for 30-minute shifts for organizations that do not have an on-campus location to come by. We used golf carts to carry our supplies and had members of our Internal team using antibacterial wipes to wipe down frequently touched surfaces.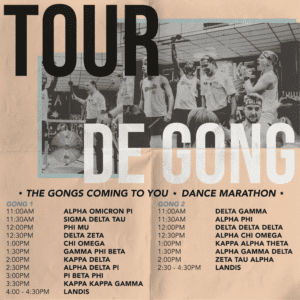 By bringing our movement to our participants, we found that people felt connected in a way that we've all been missing since our world has turned virtual. This was many people's favorite part of our push day and is definitely something that I can see being implemented again in the future. Not only did our participants get to have their own personal Statement experience, but our Internal team was also able to engage with our organization in a fun and safe way. 
Prepared By:
Madison Faller
Executive Director  |  Dance Marathon at FSU 2021
dmfsu.executivedirector@gmail.com
---
Miracle Network Dance Marathon is an international movement, involving over 400 colleges, universities and K-12 schools across North America that fundraise for their local Children's Miracle Network Hospitals. Since its inception in 1991, Miracle Network Dance Marathon has raised more than $300 million–ensuring that no child or family fights pediatric illness or injury alone.
Learn more about Miracle Network Dance Marathon: