Get to know Rashmin C. Savani, M.B., Ch.B.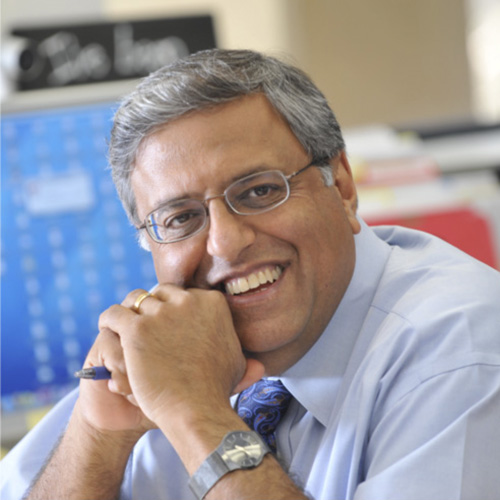 When Rashmin C. Savani, M.B., Ch.B., joined the University of Florida College of Medicine in August, one thing stood out to him – the friendliness.
"The friendliness and welcoming nature of both my colleagues in the UF College of Medicine and Gainesville, in general, has been amazing," said Savani, the newest chair of the department of pediatrics. "Everyone is so helpful as I settle into my new role."
Savani still remembers when he found his passion for medicine and patient care. Growing up, he often watched his father, who was a physician and health advisor, care for patients.
"I was 12 years old," Savani said. "It was incredible to see how much faith his patients had in him. It was clear that he was making a huge difference in their lives, and he was connected to them and their families."
Savani wanted to experience that same sense of purpose through providing compassionate care, so he attended medical school at the University of Sheffield School of Medicine in England. He went on to complete his pediatrics residency at Duke University Medical Center in North Carolina before finishing two fellowships — one in neonatology and pulmonary biology at Cincinnati Children's Hospital Medical Center and another in cell and molecular biology at the Manitoba Institute of Cell Biology at the University of Manitoba in Canada.
Savani comes to UF Health from the University of Texas Southwestern Medical Center in Dallas, Texas, where he held the William Buchanan Chair in pediatrics.
"It has been exciting to note the excellence of our clinical services, the incredible advances that we are making in research and the outstanding teaching programs that we have," Savani said of UF Health Shands Children's Hospital. "Being the best children's hospital in Florida is an incredible distinction. We can further improve the care that we deliver with the development of multidisciplinary programs delivering evidence-based approaches to clinical care."
The child and their family will always be the primary focus, Savani said. UF Health Shands Children's Hospital strives to provide family-focused, compassionate care with state-of-the-art approaches and technology.
As for the future, Savani is looking forward to taking UF Health Shands Children's Hospital and the department of pediatrics to new heights. He strives to create an integrated, multidisciplinary approach to pediatric care that encompasses both medical and surgical specialties and sub-specialties to achieve the best quality outcomes.
"We want to connect with the communities that we serve to best meet their needs and facilitate our ability to address the social determinants of health," Savani said. "We also want to provide outreach to extend the reach of our extensive services to more of the children of Florida."
While not on campus, Savani spends time with his wife of 30-plus years and his three children. He is an avid swimmer and enjoys traveling.