Ambassador Spotlight: Powie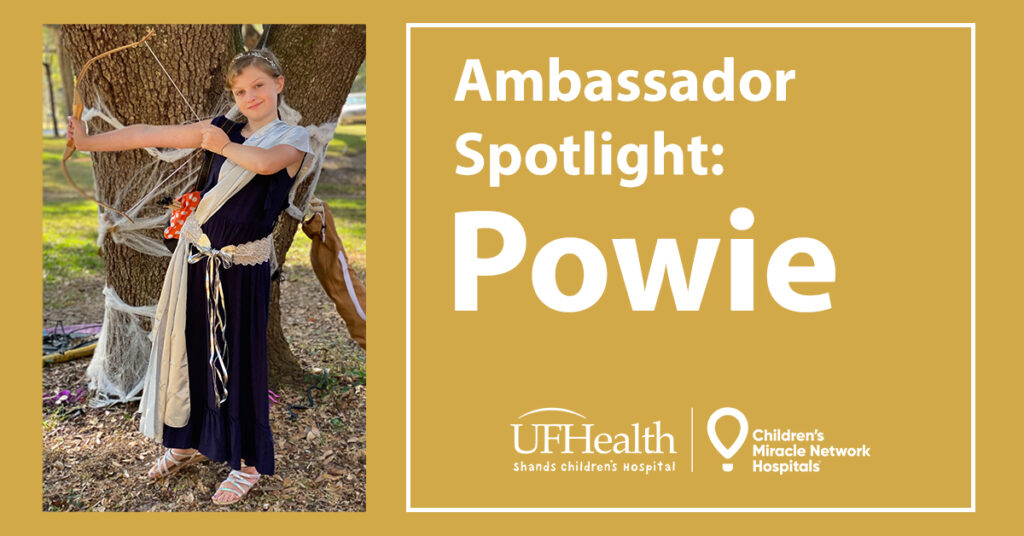 Powie Patterson was "just surviving." That is how Kristen Patterson describes her daughter, Powie, before UF Health.
"She was bouncing from infection to infection," Kristen said. "She has gone from merely surviving to thriving."
Powie is living with mitochondrial disease, a disorder that occurs when mitochondria fail to produce enough energy for the body to function properly. Mitochondria are an important energy maker in all living organisms.
"I would never wish this illness on anyone," Kristen said. "It's devastating, and it's a tough life."
Every month, Powie visits UF Health at least once. The 10 year old receives care in nine different specialties – allergy, endocrinology, gastrointestinal, hematology, immunology, neurology, ophthalmology, pediatrics surgery and pulmonology. Because of UF Health Pediatric Specialties – Tallahassee, Powie usually doesn't have to leave her hometown for treatment!
Last month however, Powie had surgery at UF Health Shands Children's Hospital in Gainesville. Her gastric neurostimulator, a device that sends electrical pulses to stimulate muscles in the lower stomach, was replaced and moved to a new location in her body.
Before surgery and during her admission, Powie was supported by her entire family, including her brother, Eli, and sister, Aubrey, as well as friends and the sisters of Phi Mu at Florida State University.
"Phi Mu truly treats Powie and Aubrey like they are sisters," Kristen said. "Their support means Powie will never have to fight her battles alone. She has an army holding her up!"
Because of UF Health, Powie spends more time enjoying her favorite activities. She loves to ride horses, play soccer and draw art. There also is a new member in the Patterson family.
"I'm thankful for my kitty, Cala!" said Powie, who had been asking for a kitten for several years.
Christmas may have come early in the form of Cala, but that hasn't stopped Powie from looking forward to celebrating with loved ones.
"I just love Christmas overall!" Powie said. "I like spending time with my family and, of course, I enjoy presents!"