Introducing our 2023 Champion, Lauren Price!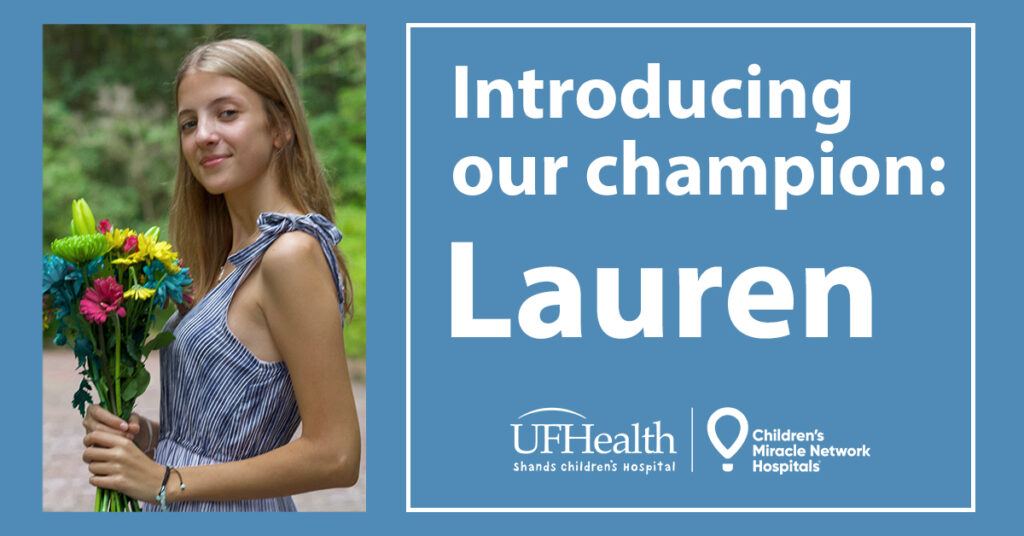 Every year, 170 Children's Miracle Network Hospitals identify a "Champion" in each of their communities to serve as the face for children treated at their local children's hospital. These ambassadors spend the year advocating for the charitable need of children's hospitals across North America.
UF Health Shands Children's Hospital is excited to announce our 2023 CMN Hospitals Champion, Lauren Price! Throughout the year, Lauren will represent UF Health Shands Children's Hospital in campaigns with our corporate partners and community events.
As an active 8-year-old, Lauren loved playing sports. However, persistent pain in her right leg affected her ability to do so. This pain revealed a tumor in one of her bones, and Lauren was diagnosed with osteosarcoma, a type of bone cancer.
Lauren's parents turned to UF Health Shands Children's Hospital, where their daughter received chemotherapy for three months and underwent rotationplasty. Rotationplasty is a surgery in which the middle section of the leg is amputated to remove the tumor. Then, the lower leg is rotated 180 degrees and reattached at the thigh.
After five and a half additional months of intense chemotherapy, Lauren was declared cancer-free!
Today, Lauren is a happy and healthy 17-year-old whose sweet smile and vibrant personality illuminate any room. In her free time, Lauren loves to write, play the drums and spend time with her family.