Support UF Health Shands Children's Hospital through annual CMN Hospitals Store Day
It's not rare to see artwork created by patients of UF Health Shands Children's Hospital walking through the halls of the hospital, or even out in the Gainesville community. No, the artwork itself hasn't transformed, but it is featured on apparel that employees and supporters of UF Health can purchase to show their commitment to pediatric healthcare.
Each year, the CMN Hospitals Store Day Sale features shirts and specialty items that can be purchased to raise funds and awareness for UF Health Shands Children's Hospital, a member of Children's Miracle Network Hospitals.
Thanks to the generous support from our partner, D&C Foods, 100 percent of shirt sales will support CMN Hospitals at UF Health Shands Children's Hospital. The proceeds from this sale provide funding for research, purchase life-saving medical equipment and support other program needs for pediatric patients and families at UF Health Shands Children's Hospital.
This year, three short sleeve t-shirt designs featuring artwork created by pediatric patients through our Arts in Medicine program are available for purchase, as well as one long-sleeve t-shirt design featuring art from our 2022 CMN Champion, Beckett! New specialty items include an alligator artwork scrub cap and a cotton tote bag with an illustration of UF Health Shands Children's Hospital!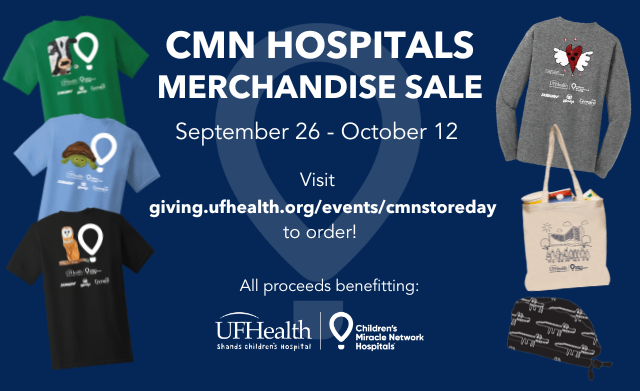 All sales will be conducted via pre-orders with an option for local pickup or shipping for out-of-town customers. A very limited inventory of additional merchandise will also be ordered to sell during in-person pickup days on a first-come, first-served basis, so don't forget to place your orders if you want to guarantee a specific item.
Pre-sale will close on October 12. Items will be available for shipping and/or local pickup in November. More details on exact dates will be shared when available.
For more information on payment, pickup or shipping options, visit giving.ufhealth.org/events/cmnstoreday. Additional questions about CMN Store Day should be directed to tara.tovkach@shands.ufl.edu.